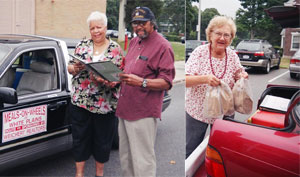 Volunteers Are Always Needed
Our volunteers deliver meals on one of seven routes between 11:15 a.m. and 12:45 p.m. They bring wonderful meals, provide a bit of warmth and compassion, and serve as a daily check on our elderly neighbors.
Volunteers work in pairs – one to drive his or her own car, and one to carry the meals and serve them.
Can you be a Meals-on-Wheels of White Plains volunteer? Please let us know if you can help. Many volunteers can commit to a regular weekly route. But we always need reliable "substitutes" to fill in on a route.