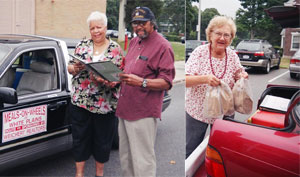 Volunteers Are Always Needed
Can you be a Meals-on-Wheels of White Plains volunteer? Please let us know if you can help. Many volunteers can commit to a regular weekly route. But we always need reliable "substitutes" to fill in on a route.
Our volunteers deliver meals on one of seven routes between 11:00 a.m. and 12:45 p.m. on Mondays and Thursdays. They bring wonderful meals, provide a bit of warmth and compassion, and serve as a safety check on our elderly neighbors. Each route serves anywhere from 10 to a maximum of 14 people.
Volunteers work in pairs – one to drive their own car, and one to carry the meals and deliver them. We bring to each client on Mondays and Thursdays – a hot entrée for the day, frozen entrées for subsequent days, cold meals, plus side dishes and beverages. Volunteer deliverers need to be able to carry some weight and go up and down staircases as necessary.
All of our clients fall into "high risk" categories for exposure to Covid and other contagious diseases (Flu for example) due to their ages and/or underlying health conditions that are preventing them from doing their own shopping and cooking. Therefore we ask that all volunteers maintain their own vaccinations and boosters and then "mask-up" when delivering meals for the protection of our clients.
Our Volunteer Coordinator will first contact you back by email. Thank you for offering to volunteer!